---
Let me show you some examples of children's clothing collections I've worked on:
Mini collection
This mini collection is made of 5 pieces: 1 t-shirt, 1 footie, 1 body suit, 2 accessories (beanie & bib).
Depending of the complexity of the designs, they can be all out of the same material or vary. In this example, they are all 100% organic cotton (1/1 rib), in different colors and patterns. Naturally, for this collection size, the cost of production will go up according to the amount of colors and/or prints of the fabrics. It's a balance between achieving cohesiveness between the pieces and offering a variety of shapes and colors. This example is rich in colors and artworks. These sorts of sets are perfect as a gift, a sort of "starter pack".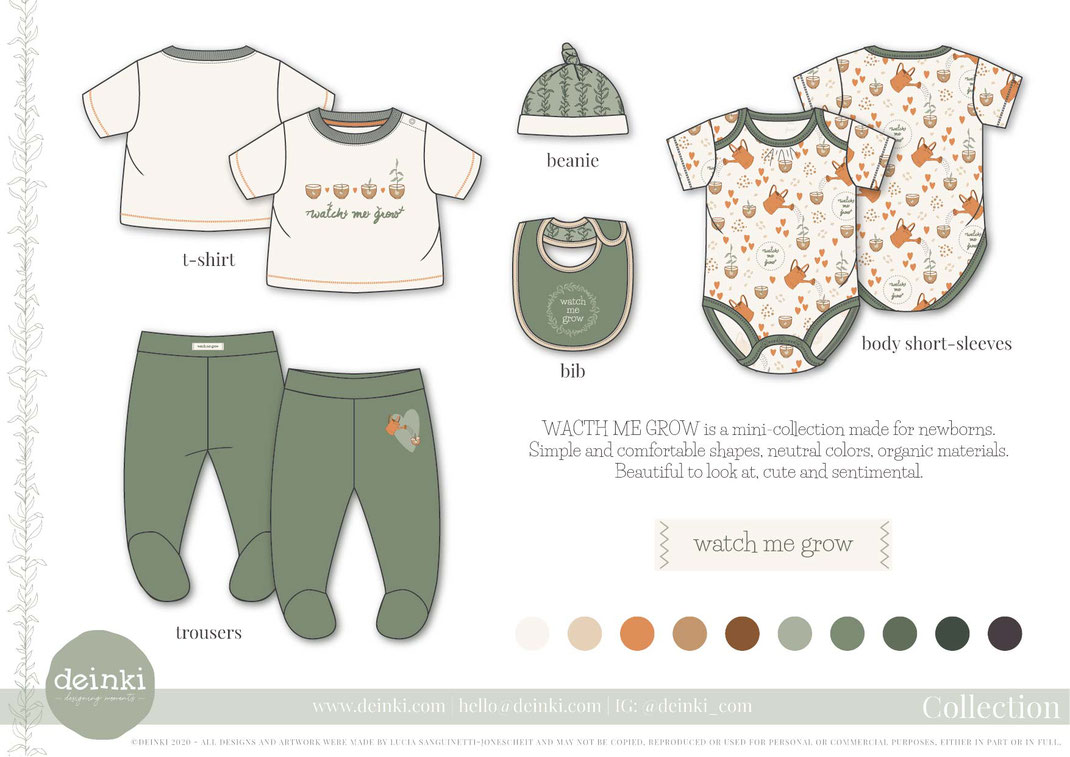 collection
This collection is made of 10 pieces: 1 set of body suits, 1 set of long sleeve shirts, 1 sweatshirt, 2 accessories (beanie & socks), 2 bottoms (leggings & joggers) and 1 pajama/sleeper.
This option covers more types of clothing, still covering the "basics" but offering more variety. This collection is more compact in terms of color and artwork, but it's also "calmer" to the eye and still offers interesting designs.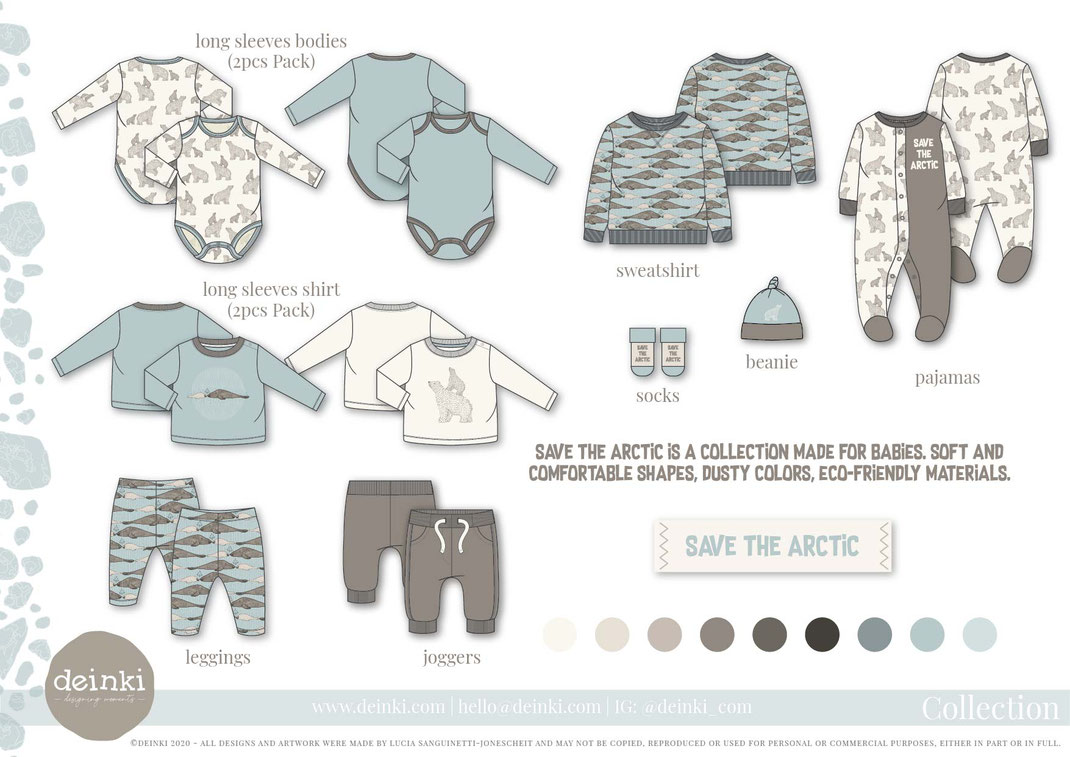 comprehensive collection
This comprehensive collection covers a wider variety of styles and applies for both girls and boys, although it's also possible for unisex collections. This one is made of 30 pieces: 2 jackets (sweatshirt/jacket), 4 body suits (also possible as 2 two-pieces), 4 t-shirts (also possible as 2 two-pieces), 4 bottoms, 2 pajamas/sleepers, 1 dress + 1 dungaree, 2 summer sets (of 2pcs each) and 8 accessories. Such a collection is rich in color, artwork and materials and still looks cohesive and rounded-up, it even offers the possibility to mix-and-match.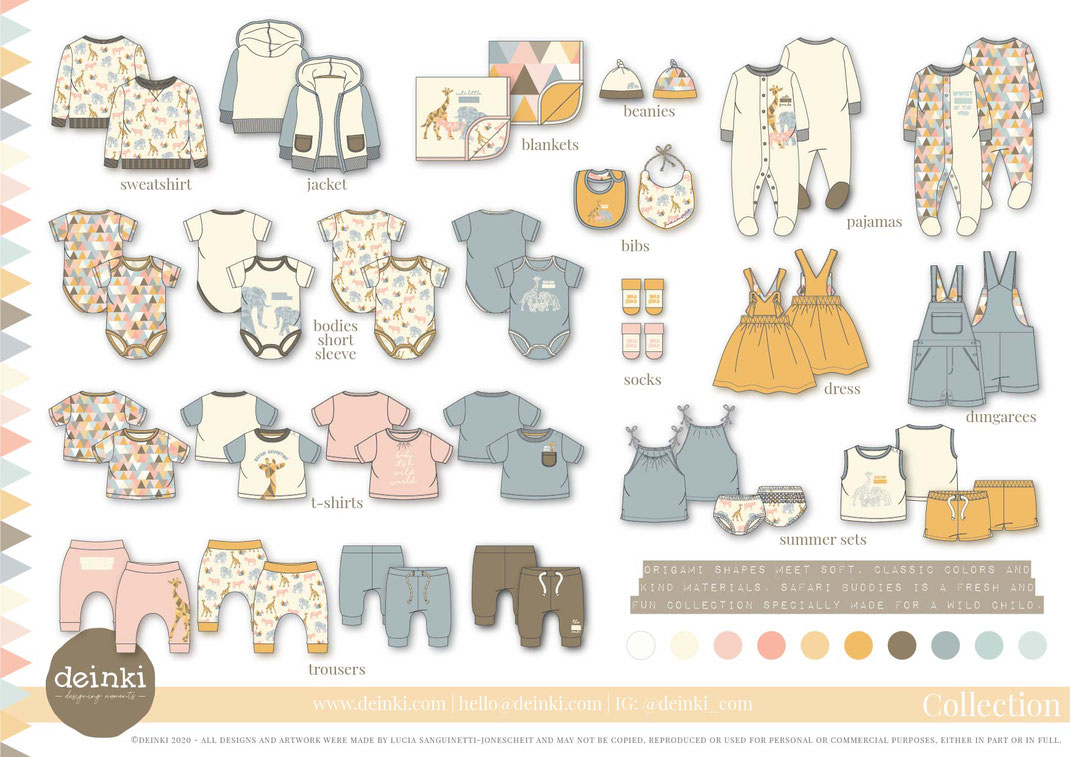 Please note, that these are merely examples! If you are planning on developing a clothing collection for children, let us brainstorm together and discuss your ideas to find the best solution for YOUR project. Developing collections for babies and kids has been my daily business for years and I was able to gather the know-how and experience to help you.
I would love to assist you with the following tasks:
- Trend Mood-boards | Color-cards | Work with Pantone
- Collection Conception, Planning and Development
- CAD Drawings | Flat Sketches | Constructive Details | Tech Packs for Production | Tech Specifications | Inner views
- Embroideries and Badges description
Besides, as you may know, I have vast knowledge regarding the graphic part of collection development, which in my opinion, plays a crucial role in children's fashion: repeats patterns, placement prints, embroideries, etc. which creates a more cohesive look and idea when it all comes from the same hand.
let's work together and wow your clients!