---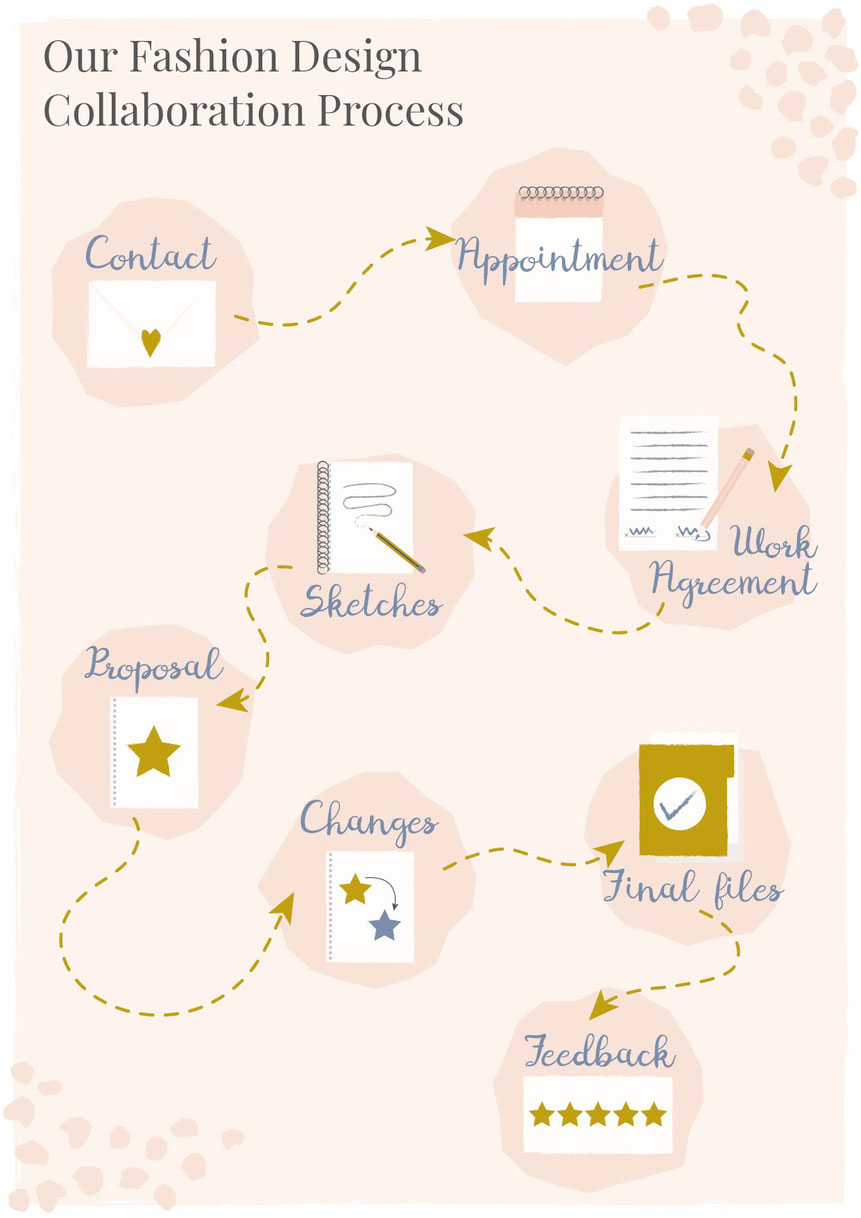 contact
You can contact me by e-mail, through the contact form or by asking for a free and non-binding appointment. I will send you a short form to know in advance your needs and basic requirements as well as to know more about your project and your brand in order to help you better.
---
appointment
Once you have sent me the completed questionnaire, we decide on a day and time for our online meeting via zoom or similar. In this meeting we will talk about your project, the specific characteristics of your brand and how I can help you with my knowledge and expertise.
---
offer - work agreement
Based on what we discuss in the interview and all the details, I develop a personalized quotation and issue the contract/statement of work to be signed by you. We also stipulate the project deadline dates and ways to deliver.
---
first raw sketches
Once the contract has been signed and the transfer of 50% of the project estimate has been made, I start with the raw sketches of the ideas discussed. All the details and characteristics of the collection will be presented in a draft mode, in order to speed up the process and capture all the ideas on paper.
---
proposal
After the sketches have been approved, I proceed to work on the proposal itself. The designs, colors, textures, variants, etc. will be accurately displayed in the right scale and format.
---
changes
Sometimes, after seeing the proposal in color and with all the details, it is necessary to make some changes. Normally, after one or two rounds of changes, the proposal is ready to be sent for final approval.
---
final files
After proceeding with the rest of the payment of the estimate, I proceed to send the final files to a happy client, in the formats previously stipulated.
---
feedback
Because I aspire to always give a better service to my clients, I send a short survey to the client to give me feedback about the work done. Your honest opinion matters a lot to me and allows me to grow as a person and professional.
---
Each client and project is unique and has their articular needs.
I'll be happy to assist you, so let us talk about it and let me show you some examples of my work!