---
In this post, I'll be showing you 5 of the most common effects for placed prints, mostly for textile application.
Foil Print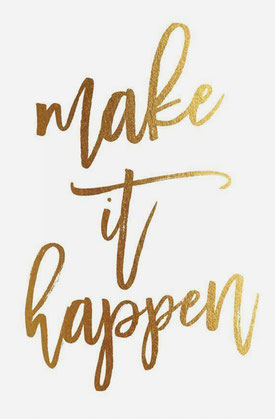 The foil technique is a decorative process that is achieved with a metallic paper leaving a shiny appearance, which is applied with precision by means of the heat of a special plate.

This technique consists of paper wrapped in a thin aluminum film to create a surprising metallic effect. It can be fluorescent, clear, translucent, wrapped in an opaque sheen or even create a holographic look.

Traditionally you can get it in up to 12 different colors, but the most used or traditional colors are gold, silver and bronze.
---
Glitter Print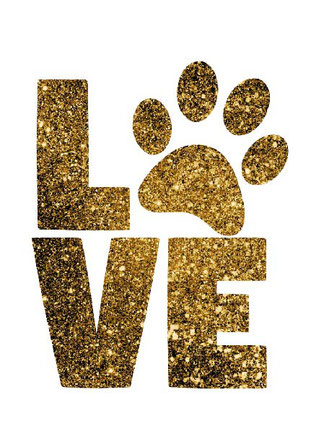 Glitter consists of small plastic particles of various shapes and sizes that comes in a wide range of colors and effects. With glitter, you can achieve a brilliant effect with striking sparkles.

It's applied by screen printing with products that act as a binder and fix them to the surface.
Glitter also comes as a thermo-adhesive textile vinyl sheet with shiny particles, this has a transparent coating to prevent wear and tear by rubbing or washing, and in turn give it a nice and soft final touch.
Traditional glitter is a microplastic and can be potentially harmful in the environment. As a result, there is rising consumer pressure for products to use eco-friendly glitter alternatives.
---
flock print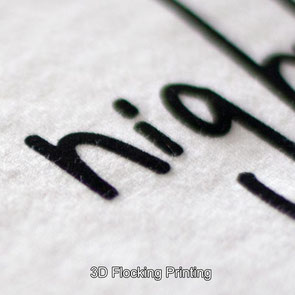 The term flock refers to small monofilament fibers usually made of nylon, rayon, or polyester, although there are other materials such as cotton, acrylic, viscose, and polyamide. Flocking is the process that involves the direct application of fibers to a substrate or object previously covered with adhesive utilizing electrostatics, leaving them in a completely vertical position.

The high density of fibers provides an appearance with excellent color intensity. It is applied in two different ways: by direct screen printing on the garment or with thermal transfer flock sheets.
---
puff print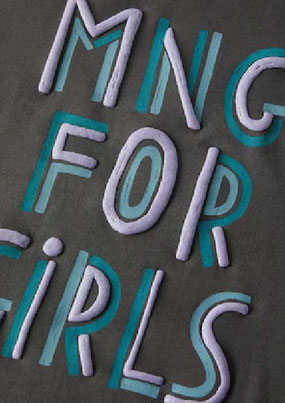 The printing process is the same as traditional screen printing, but as it passes through the drying oven it causes the foaming agent to react giving an incredible 3D effect.

The 3D effect can be applied to your entire design or to just one sector to give more emphasis to a sector and highlight what you really need. There are no limits with this printing technique so you can do anything you want.
---
glow in the dark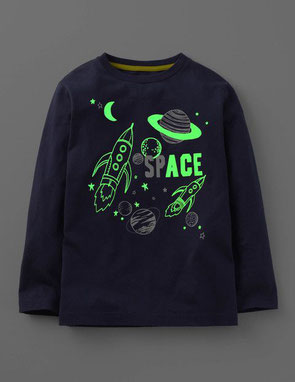 Phosphorescent or Glow-in-the-Dark inks are initially invisible inks that, when exposed to sunlight or visible light, "charge" and store energy that, later in the dark, is released as "phosphorescent" light. These phosphorescent effects are better the darker the room and the phosphorescence time of the ink varies according to the nature of the pigment used in its manufacture.
This effect can also be applied by screen printing or with vinyl sheets.
---
Did you know all of these? Which one is your favorite?
---
interested in licensing one of my patterns?
let's create something for your brand!
more tricks & tips for designers?