Tadaa! It's finally here! The list with the 30 flowers for the Design Challenge in September!! Remember, you can draw, paint, by hand, digitally, collage, whatever makes you happy. There can be other elements in the composition as long as the protagonist is the flower.
Here are the prompts!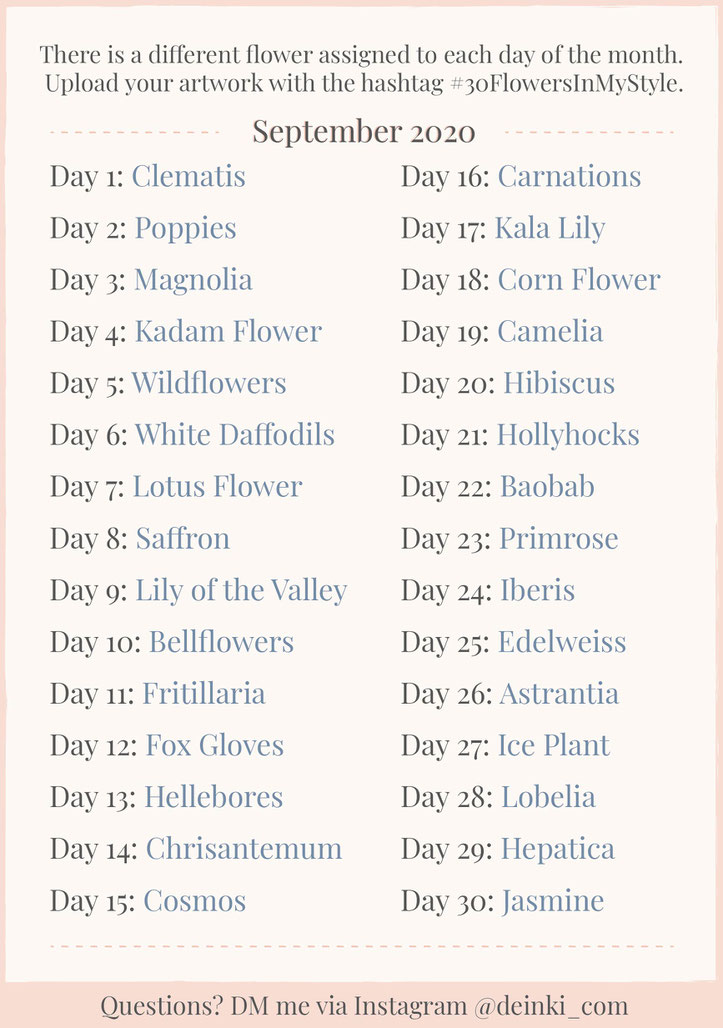 Many of the flowers' names are recognizable at first sight, but others aren't. To make thing easier for you, I made a Pinterest Board where you can see different images of each kind of flower, as inspiration. Feel free to add me as a Pinterest contact if you like.
You can also download the Challenge Badges for your Instagram Feed and Stories, right here:
For your Instagram FEED
For your Instagram stories
Like you may know, I love planning ahead. That's why I'm posting the prompt list this soon. You have the whole month of August to work on the artwork. This way, once September comes, you have most of the work done and you don't need to rush anything to finish on time to post. (I mean, do what better suits you, but 30 flowers in 30 days might get tricky, haha!)
Last year, I also shared the entries of the participants on my stories each day. That's why it's really important that you write the hashtag #30FlowersInMyStyle on your post, so everyone who is following that hashtag can see your beautiful creations!
Once the Challenge is done, I like to make a short interview with each designer/artist to know them a bit better. These will be featured on my blog as well, with some samples of their challenge posts, like last year, take a look.