Today, I'll share with you a look behind the scenes of my studio: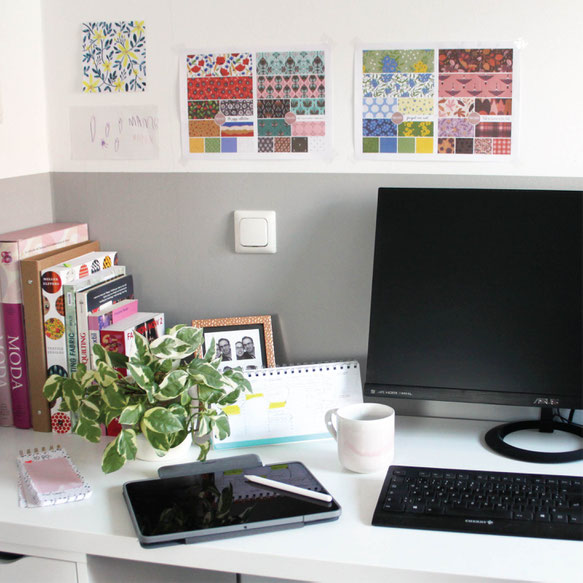 Disclaimer: It doesn't look this tidy all the time!
When we started renovating this house, we had to tore some walls down and lift others up. It's actually a tiny room (1,80m x 2,70m) that used to serve as a dining niche and had a small window to the kitchen (which now is our guest room!) But since we moved everything around, we were able to keep this small room with a big window as an "office". I soon claimed it as DEINKI territory and filled it with all my fashion & textile books, my computer and huge scanner/printer. This is where I spend all my mornings (and some afternoons) creating, planning, answering e-mails, pitching new clients, DREAMING!
Disclaimer: It doesn't look this sunny all the time!
And speaking of dreaming, (and do know: I am manifesting this), my big dream is to move up my studio to the attic, where I'd have a greater view (not only to my neighbour's old house), much more sunlight and a bit more storage space. I'll have a corner for all my fabrics and licensed products, my desktop and yes, even a sitting area for meetings, why not? I'll paint everything white except for some walls, where I'll put some wallpaper designed by myself and hang plants everywhere, which hopefully won't die. It's going to take some years, but it'll happen! I'll absolutely keep you posted on this, since there is so much renovating to do before it's even possible to plan how to do it: