Let me show you how prints and embroideries can complete your collection with an example: a Baby Clothing Collection.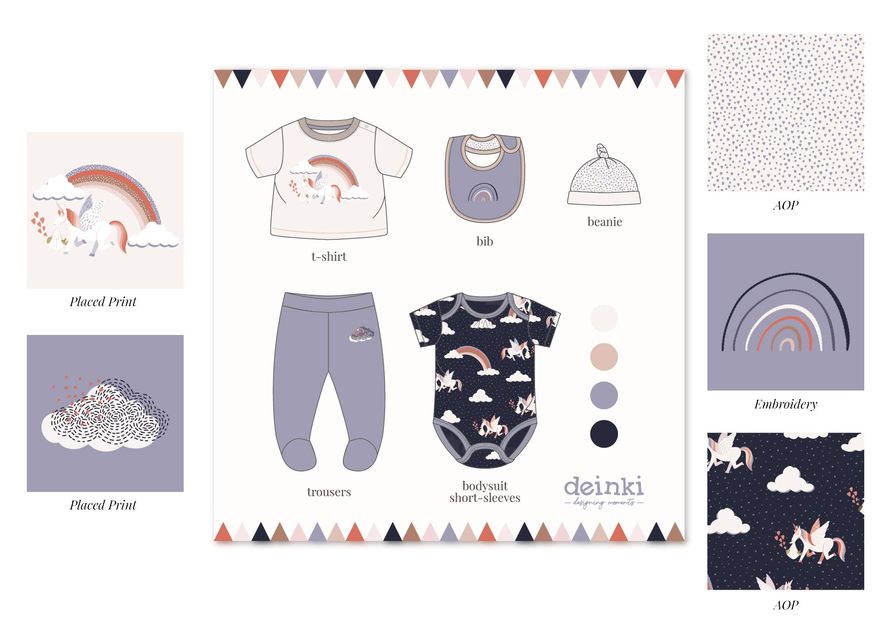 In terms of adding value to a product or a whole collection, placement prints and embroideries play a crucial role. They bring cohesiveness and more detail to the collection. Here too, it's a matter of balance and it depends on the particular aesthetic of the brand or company and, of course, it is not something purely exclusive to apparel. See some examples for home decor or stationery: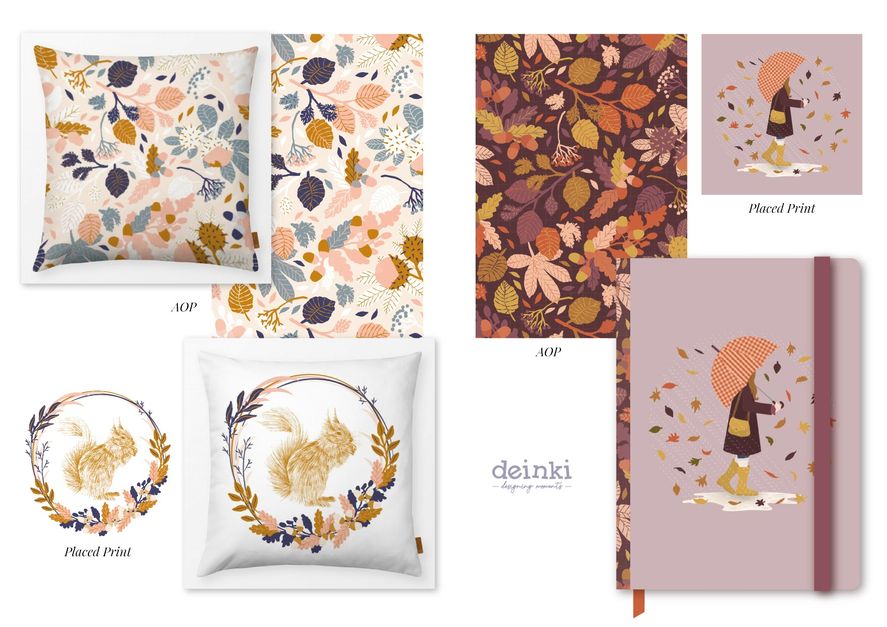 These cushions are part of my Collaboration with TEXTILWERK and they're available here!
Lettering can be either be mixed with prints and embroideries or as stand-alone elements. One important aspect to consider when creating artwork with lettering is the font: Microsoft or default fonts really diminish the value of the artwork. There are great web fonts available but it is always tricky with copyright. To avoid these issues, there are two very good alternatives: either purchasing a license for a special font (in that case, the designer has to be sure to purchase the right type of license in order to be able to create and sell the resultant artwork) or creating your own lettering. Nowadays, with drawing tablets and software, as well as Apps such as Fontself, it's much easier to create your own wording.
For designers, it is always beneficial to show some placement prints or spot graphics on their portfolio or sell sheets, because it shows that as designers, they can envision the artwork in many ways and that their artwork is adaptable to several mediums and materials. They can also save the brand or company valuable time by already providing prints or spot graphics.
For brands or companies, prints and embroideries represent another great way to add value and offer something extra and different to their clients, which translates into happier clients and better sales.
interested in licensing one of my patterns?
let's create something for your brand!
more tricks & tips ESPECIALLY for designers?